@Lighting
The SmartHub.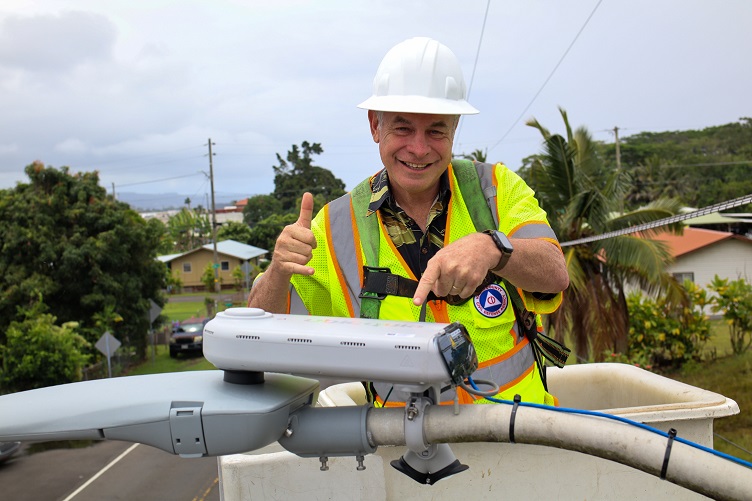 In Hawaii, they are installing a UbiHub on a streetlight in the region. The municipality will be using the smart city hubs to bring free broadband access to Pana'ewa Park.
Startup Ubicquia has rolled out two streetlight platforms designed for smart cities that integrates Wi-Fi, 4K cameras, directional microphones and neural artificial intelligence (AI) processors.
Called UbiHub, the platforms are compatible with more than 360 million streetlights worldwide and can be installed in seconds by replacing the existing streetlight photocell socket. According to Northeast Group, a smart infrastructure market intelligence firm, integrating multiple functions into one platform for smart cities is a way to reduce the cost of ownership for by 42% compared to conventional solutions.
"Installing Wi-Fi infrastructure into streetlights allows communities to have equitable internet access, expanding broadband and closing the digital divide, and in turn, intelligent data can essential services, portable data communications accessibility and future planning development needs."
Imagine driving late at night in very low traffic and never stopping for a traffic light because the integrated cameras at intersections see you coming and turn the light to green – or the ambulance routing to the hospital with a critical patient and having a clear traffic path provided.
The platforms allow cities to transform existing streetlights into a network of connected digital assets:
Equipping with something alike the UbiHub can enhance existing use cases by:
Enabling faster crime detection, investigation and deterrence.
Reducing traffic congestion.
Improving pedestrian safety.
Increasing bicycle lane utilization.
Expanding city broadband deployments to commercial areas and parks.
The Ubihub platform example:
The UbiHub AP6 is a triband Wi-Fi access point that gives communities the ability to enable public Wi-Fi. It uses power over Ethernet to support third-party equipment including cameras or vehicle registration plate readers.
The more advanced UbiHub AP/AI includes the same features as the AP6 but also integrated dual 4K cameras, direction microphones, a neural AI processor and buffers 15 days of video storage.
These platforms can be managed and monitored by Ubicquia's cloud visualization and analytics management system called UbiVu. The system also support APIs that integrate with third party video management systems, evidence clearance platforms and police real-time crime centers.
Current deployments
Ubicquia has already deployed the systems to several cities in the U.S.
In West Hollywood, California, the city is using the platforms for smart city traffic and curb management capabilities for data on traffic, bicycle and pedestrians as well as public safety measures and future planning development needs for its residents.
In the county of Hawai'i, UbiHub is being used to bring free, high-speed internet to Pana'ewa Park, a recreational and educational area in a zoological and botanical area of the county. The city said the deployment of the streetlight platform is an important step to expanding its broadband and closing the digital divide throughout Hawai'i Island.
There have been 12,500 UbiCells deployed in Ontario, California, for smart lighting analytics and energy savings. The city said the system helps the digital divide by rolling out public Wi-Fi and boosting public safety in one platform.
Streetlights as a smart city solution
Given the wide infrastructure already in place for streetlights, upgrading these lights with smart city capable technology is obviously easier than deploying technology where infrastructure doesn't already exist.
The ease of adding smart city infrastructure to streetlights has helped accelerate the deployment of these technologies for communities.
While many of these smart city features are new for government agencies and can present challenges for cthem, the trials are being found to overcome these issues with adjustment and improvements in the technology and by learning through the examples of current community groups.
Ubicquia is not the only company working on these technologies and last year, Signify and the Smart City infrastructure Fund demonstrated how smart lamp posts can tackle tasks such as overcrowding, traffic management and body temperature detection. This came as the world was still dealing with the COVID-19 pandemic and looking for ways to help improve the situation through technology.
Smart lighting and streetlights have also become an important way for cities to increase 5G infrastructure with the deployment of small cells that boost signals inside cities where they may have trouble moving through buildings, trees and other objects.
Telensa and Eaton Lighting collaborated on a project to integrate lighting, control and smart city solutions using existing streetlight infrastructure to serve as a way for communities to save on energy as well as also putting them on a path toward smart city applications.